Army Veteran: Insomnia, Standing Down
"On active duty I had to be wired up and on high alert. After a while my racing thoughts affected my sleep, my ability to focus and my job performance. This became even more of a challenge in the transition to civilian life. Of particular value have been the breathing techniques and the training for being alert and calm at the same time. Using these skills keeps me more relaxed, healthy, settled and in tune. I accomplish more and meet my own standards of performance; I can do what I know I am capable of doing."
---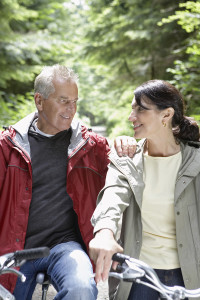 University Administrator: Daily Headache, Severe Migraines
"I was only working half time and felt I had nothing to lose when I began sessions at Lessons With Ease. Within 2-3 visits, my desperation subsided as I began to learn about the connections between my headaches, my stress triggers and my thought patterns.
Using the biofeedback modalities really opened my eyes to these connections and to what I could do to change unhelpful habits. As I learned how much more I could control, the severe migraines became less frequent; I returned to work full time and am functioning better regardless of the stresses and headaches."
---

Non-Profit Executive Director: Heart Arrhythmia, Knee Pain
"Betty helped me learn to work with myself, develop my own resources, trust my own body. When I think of the money spent in medical settings, I believe what I learned was worth so much more and of greater long-term value."
---

University Administrator: Chronic Pain
"I've always wanted to be comfortable in my own skin. I created a 'run away' cycle to avoid pain that kept tension in my low back, upper body and provoked headaches. I experienced endless, self-induced stress in mind/body/spirit. The Feldenkrais idea of 'range of ease' was huge. And of course seeing with the biofeedback monitoring how stress manifested gave me the proof I needed to understand how I could be more comfortable and in control."
---

Community College Instructor and Administrator: Chronic Pain
"Pain filtered my whole life. I was physically unable to function at the level I needed to, wanted to and used to be able to. My mood and attitude was always "dark". I lived life passively, in reactivity rather than activity; my life was contracted. Now my awareness of alternative processes is 1000% improved. I can examine patterns and make choices that allow me to spread out. I can inhabit all of myself and all of my life with tolerance and perspective."
---

Retired Health Insurance Employee: Insomnia, Anxiety
"Something was wrong with me that pills didn't help. I was delirious with fear and anxiety and driven to puzzling behaviors like checking all the lights numerous times. Learning the difference between anxiety and stress and what to do about it gave me a very different night life. I go to sleep peacefully now and wake up rested.
I look forward to each visit because I leave with tangible tools to change myself rather than a patch that did not resolve my problems."
---

City Government Supervisor: Panic Attacks, Jaw Pain
"I was a basket case and knew I needed help just to survive in my work environment. I'd gotten to my last resort! Now I have less stress, cope better with stress and give myself relief from jaw pain. I improved my productivity and professionalism in the workplace and know I can stay in the career that allows me to do what I love to do."
---

Retired Elementary School Teacher: Migraine Headaches
"It was intellectually exciting to be learning about my own body rather than "trying to overcome" my headaches. Biofeedback and relaxation skills slowed me down a lot. Movement lessons help me stay in touch with my body, see signals of discomfort and do something before headache or stress take their toll. I can step into that place when there is a lot to do and not become as stressed about it."